We are an automotive industry supplier of choice for Premium, Class A coated parts. From passenger and heavy truck wheels to exhaust and trailer panels, we deliver high-performing coatings as a Tier 1 or Tier 2 manufacturer for many years.
AMT will make your metal products eye-catching and durable with our cutting-edge coating and finishing processes. We utilized colored, tinted and clear liquid paints as well as electrostatic powders to achieve the perfect look for each client project. We have the ability to apply finishes using automated process to ensure consistency and speed, as well as manually to adapt to custom needs.
Coatings are applied in a contained, positive pressure 30,000 square foot building. Each of our coating booths located within our positive pressure facility are kept lint and static free to ensure quality finishes. Our systems have been approved by all original equipment manufacturers (OEM) and have passed environmental testing.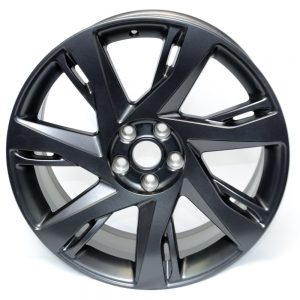 We have the ability to process wheels from 14" to 29" diameter by 20" wide which require:
Full Face Paint and Top Coat
Standard and Premium Colors
Chrome Look Alike
Bright Face Machining
Polished Wheel
Polyester Top Coats: Low Gloss, High Gloss, or Tinted
Polished Face and Painted Windows
Two different colors
Nano Brite
"Tough as nails and brighter than the competition."
This proprietary high gloss top coat works on both cast and forged wheels to give a long-lasting, durable shine. Test show Nano Bright finishing is brighter than our competitors and stay bright over time.
Wheel Tattoos
This proprietary process will permanently add your personalized logo to your aluminum products. AMT's Wheel Tattoo cannot be removed with solvents and will pass all corrosion testing. Tattoo size can vary from 1mm to 250mm.
This technology is not limited to wheels – it can also be applied to Class 8 bumpers, fascias, tanks or other aluminum products.
Chemical Agent Resistant Coating (CARC)
We apply CARC coatings on either steel or aluminum parts to reduce the destructive effects of the harsh conditions many products are exposed to once in production. CARC coatings protect products finishes and increase their durability. Our system will support parts four feet long and four feet wide and 29" thick. Make your wheels look military-grade!