Ensuring quality product is the core value at Applied Metals Technology, Ltd. (AMT). We provide inspection and testing services specific to each industry we serve to uphold the high quality standards of our customers.
Non-Destructive Testing
We are ISO 9001:2015 certified and have been third-party certified since 2004 and are equipped for Brinell hardness and electrical conductivity testing. Our non-destructive testing techniques are fast, cost-efficient, and provide valuable data for troubleshooting problems or researching new products. In addition to traditional manual and people-oriented quality processes, we maintain procedures utilizing Statistical Process Control (SPC) techniques that enable us to produce consistently high quality products.
Penetrant Inspection
AMT's staff has also completed the required training for penetrant inspection to both ASNT-TC-1A and NAS 410. Our liquid dye penetrant system will process parts 15 feet long and 3 feet wide. We can adapt our current system to utilize all types of penetrant and sensitivities required without dumping tanks. Our system uses only virgin penetrant and emulsifier to eliminate the use of contaminated or diluted product.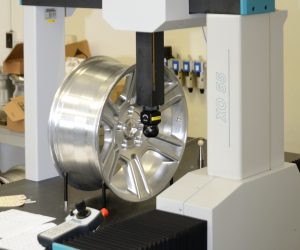 Coordinate Measuring Machine
AMT has the capability to verify dimensional tolerances on incoming and outgoing parts using coordinate measuring machines. Data from this machine can be used for process control analysis, incoming and outgoing inspections, and design verification.